Hey guys!
Welcome to my blog! I am so happy to have you guys here on my website, where I can share some amazing moments from my life.
Good news everyone, in 2017 I'll be doing more blog posts, where I get up close and personal. I am currently creating amazing content for you guys and I can't wait to share it!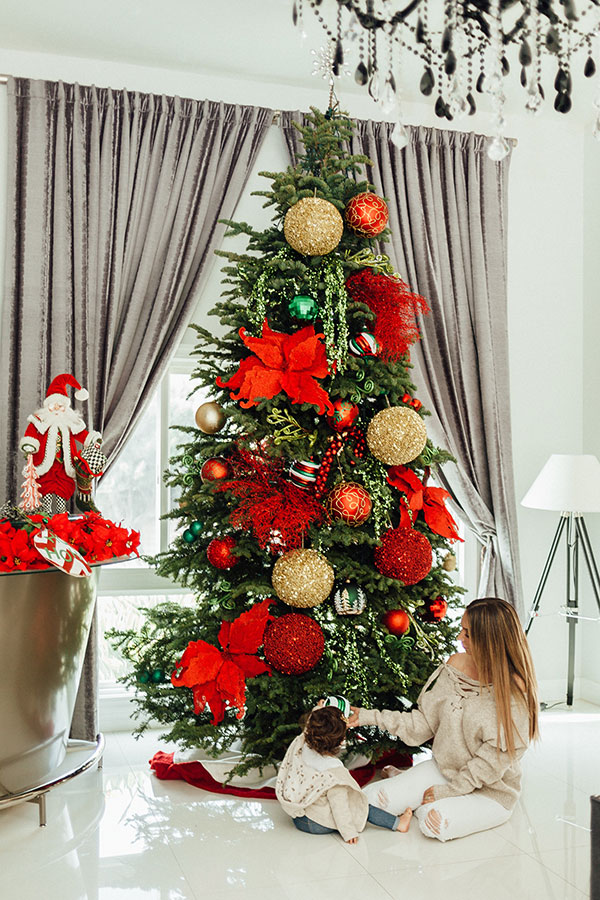 Until then, I want to share with you guys my Christmas tree decorating story. This past weekend, I set up my Christmas tree with the help of Santa's little helpers, my daughter, Collette and my dog, Duke. Not only did I get my tree up, but I did it on a budget!
Now, I don't know about you guys, but putting the tree together is an exciting time for me and my. We both love Christmas and it takes us back to our childhood and the amazing memories with our dads. Both my husband and I have lost our fathers. His died of brain cancer over 10 years ago and mine died of a heart attack over 5 years ago. Although the years fly by, the memories will never leave us. It really feels like it was yesterday when I used to go tree hunting with my dad at the local supermarkets, and now, I'm doing the same thing with my own family.
My husband Ray and I took my daughter Collette to find the perfect tree. We like going to a couple of places and scoping out the best tree. After all, in our minds, our daughter deserves nothing but the best, and our tree HAS to look perfect. Last year, we had a Christmas tree horror story: our tree was not that great and it died before Christmas! In order to avoid that from happening again, we decided to check out a couple of places around our area that sold trees.
We finally found what we think is the perfect tree after scouting out 4 locations. It was really love at first sight. When I saw the tree, it was calling my name. Like, DIANA! Take me home! My daughter Collette clearly didn't hear the tree scream as she was sound asleep in her car seat, but she gets away with it because she's so cute!
After we got the tree, I started with my search for the perfect bargains. One thing I love is a good bargain. Not only do I want to buy toys on sale, but I search for coupons to get me even better deals. This tree is huge and I know it can get pricey with ornaments, and I now have a college fund to save for. Gotta be wise with my cash!
I first consulted my good friend Saco from Petals LA. He was having an event where he was selling some amazing ornaments. I usually go for non-traditional ornaments. Last year, my tree was black and white and Coco Chanel inspired. Saco told me that this year I should go traditional. After all, I have never done the traditional theme colors. What Saco was saying really resonated with me and I was feeling the Christmas colors and gave in. I got a couple of stand out ornaments from Saco but I still had the rest of the tree to fill up. So, what was I to do? I started Googling the best prices from Target, Michael's, Walmart, Costco, etc. After doing much research, I realized that Michael's had the best deals. There are ornaments over 70% off right now at Michael's. Isn't that crazy?! Who wants to pay full price when you can get crazy savings like that? Also, if you download the Michael's app, you get an extra 20 percent off on sale items. I mean, this is where I was really sold on these decorations!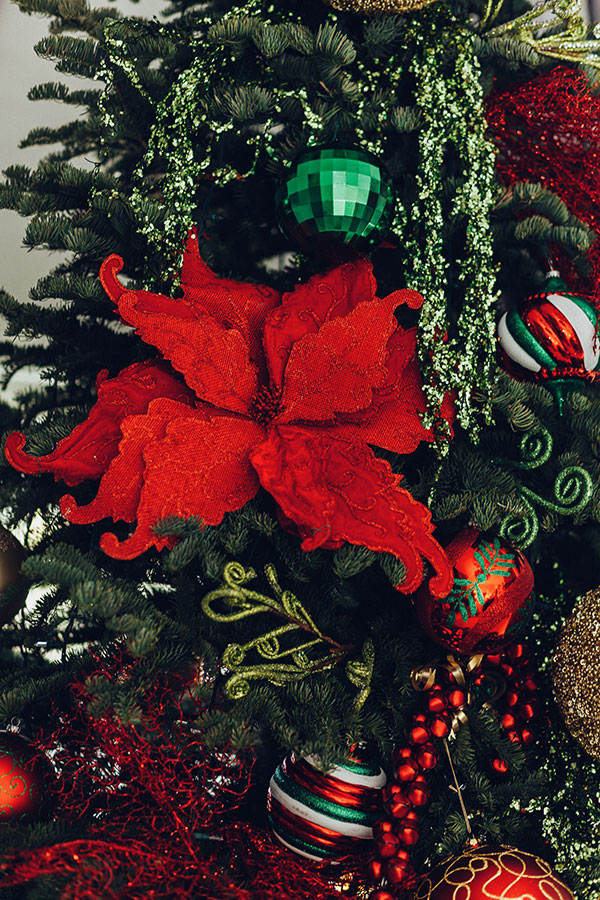 So I headed to Michael's, along with many other smart Christmas shoppers like myself who probably debated in their heads, Michael's or Target. I headed to the Glendale location and went to town. I found the most beautiful ornaments! My favorite is the mirrored green ornament and glitter ornaments. Anyone who knows me knows I love to leave a trail of glitter anywhere I go, and also a strong scent of my perfume but that's a whole other story. LOL Maybe another time!
I came home and decided to decorate my tree. I actually was so excited in the car for the great deals I got, that I couldn't wait to get home and decorate.
I poured myself a glass of red wine, put on some Christmas music, and got to work. I was a little sad my daughter Collette, who is now 1, not really understand what I was doing. However, it was exciting to see her look at the ornaments in amazement in between trying to eat it. She's teething really bad and thought the ornaments were soothing toys. YIKES!
When I was buying the tree I wanted to go big; however, I didn't realize how much work would go into it. After a couple of hours, 4 diaper changes, 1 temper tantrum, 1 meal, and 1 snack time, my tree was finally done.
My husband helped me put the lights on because that's always the hardest part for me. He's a lot taller than I am so it's easier for him to get on the ladder and light it up!
Overall, the process was long and tiring but so rewarding at the end I am really proud of my work this year, as this is the most wonderful time of the year and the tree represents it all.
I can't wait to go shopping and buy some gifts! Speaking of, I am going to be doing my annual holiday gift guide later this week so please make sure to check back!