I know that it's only February and we've still got a long way to go until summer, but I have to admit — there are a lot more benefits to exercising than JUST looking good poolside! Over the last few years, I've really put an emphasis on prioritizing health and fitness; and what motivates me to keep it up is my beautiful 15-month old daughter, Collette.
Even when I feel like I have zero time during the day (which, trust me, is pretty accurate), I always make it a point to squeeze in exercise anytime I can, and a lot times, that involves Collette!
One of our favorite activities to do together is hike. Living in LA, we're literally down the street from SO many different trails! And since we're spoiled out here and pretty much have perfect weather 24/7, it's a *perfect* weekend activity! One of the things I love about it so much, especially taking Collette along with me, is that it's our own special mommy-and-me time. It's so fun to get out in nature and watch her explore the outdoors. When I was a young kid, I never really did anything like that (I did when I was a bit older, though!), so I think it's a wonderful and fun experience for us both! And you know what? Pushing a stroller uphill doesn't hurt either! Trust me when I say you'll feel the burn!
Even if you can't get out hiking, walking in any way, shape, or form, is another easy way to sneak in some quick exercise when you're a busy mom! If i'm stuck at the office on a phone call, I'll pace halls or go for a walk outside, or take the stairs instead of the elevator and park far from wherever I'm going (like to the grocery store, Nordstrom's, etc.). I know, I know — it sounds so cliche! But seriously, anything helps!
I recently just got into yoga, also, and it's been one of the best decisions I've made fitness-wise. Not only do I love the way it makes me feel, I love the fact that Collette can join me! I recently told you guys about how active she is now, running around like a tiny little cute madwoman. Yoga is another way for her to stay active AND it's another great way for us to bond and spend time together. Not to mention, she's literally the cutest thing ever!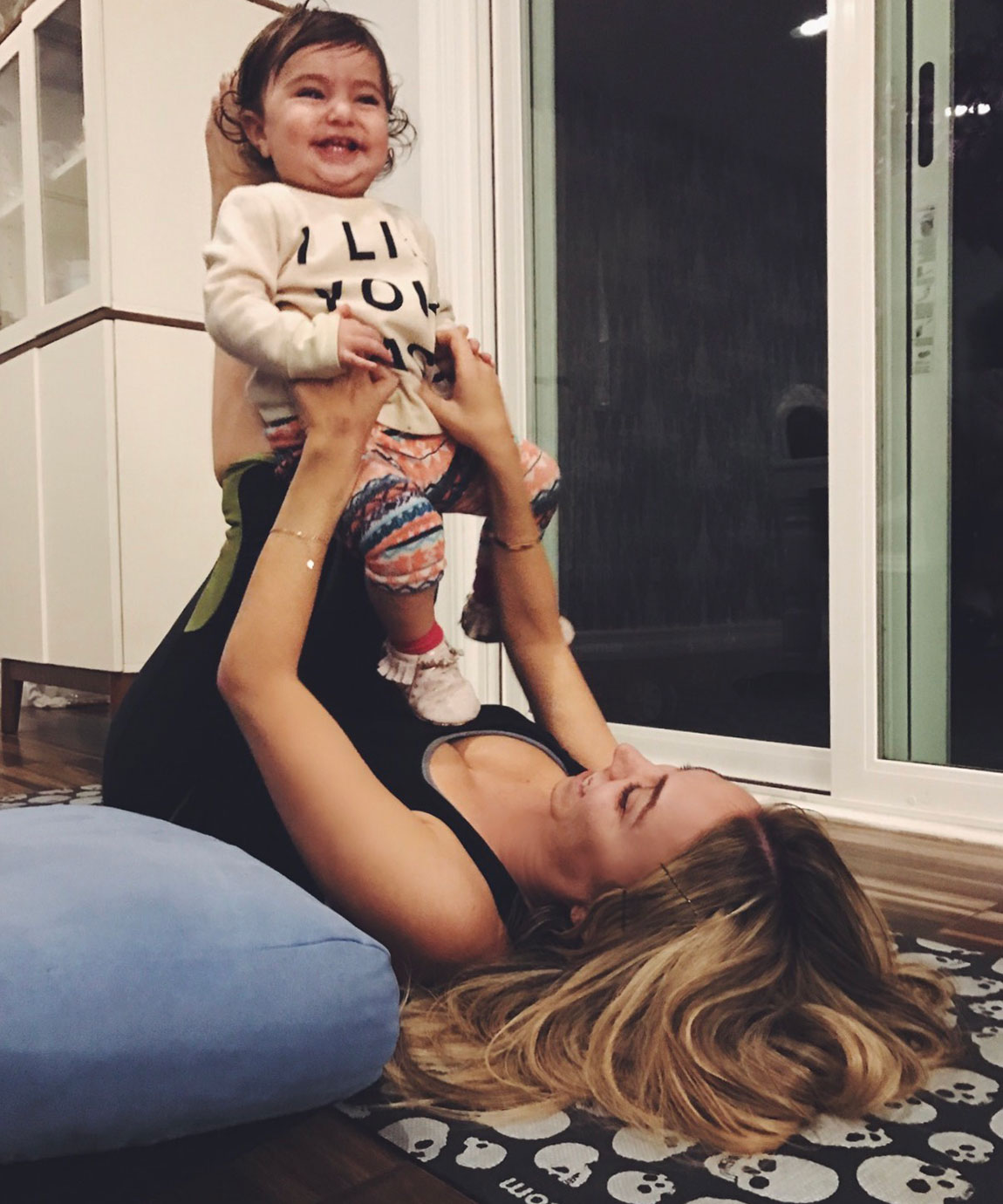 Also, I've found that doing some light yoga and stretching before bed, while I'm in bed (no joke), is a great nighttime routine that helps me relax and get ready to take on the day the next morning like a #girlboss. It doesn't hurt that I can fall asleep where I do these stretches, either!
So while I know it may seem like it can be impossible to fit in daily workouts (and trust me, I understand that some days, it may not be possible — and that's SO okay!), but just remember that every little bit helps! Take advantage of your time with your growing babies and teach them a healthy lifestyle from the start — it's an amazing bonding and learning experience for mommies (and daddies)!
What are some ways you guys like to stay fit and healthy with your babies? Let me know in the comments below!