Welcome to my #momtrepreneur diaries that I will be posting weekly here on my blog! Every week, I will be tacking the obstacles that affect hard working moms, because we all know that moms are superheroes and the balancing act of being a working mother is not easy! Especially with the mom guilt and the amounts of energy one needs to keep up with life.
This week, I want to talk about how to make more time in a jam packed day with your child. We are all so lucky to be living in an age where we can instantly FaceTime our kids no matter where they are and have a moment with them, even on a work break!
5:30 AM
My daughter wakes up around this time every morning, and to get a little bit of mommy-and-me time in before my hectic day begins, I bring her into my bed where she and I cuddle and she watches Sesame Street while drinking her milk. Although its the crack of dawn and I am super tired and sleepy, it's totally worth having that extra bonding time!
6:30 AM
Collette takes a bath and we sing along to songs. It's important to make the most out of any moment, even if it's a quick bath. I've learned it's not just how much time you spend with your children, but how much YOU MAKE of the time you spend with them, so I really try to make the most out of her bath time. Seriously, every extra minute is a blessing!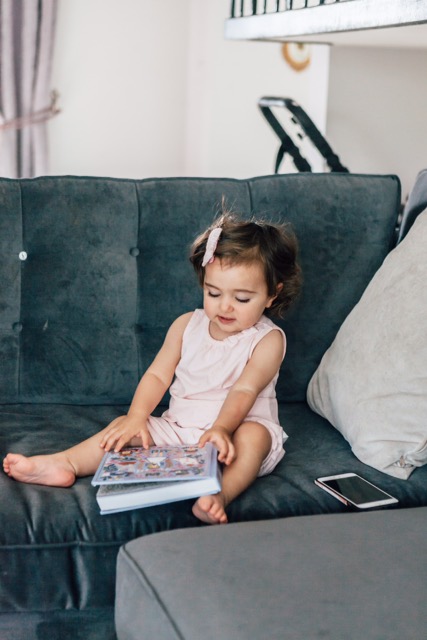 7:00 AM
Collette gets dressed and it's time for me to take a quick shower. My husband will help out at this point and watch her while I get ready. I've gotten my shower down, so I can quickly get ready and not waste too much time.
7:30 AM
Collette joins me in my closet where I get ready. It's important to note that I have both my clothes and Collette's clothes ready from the night before in order to not waste too much time.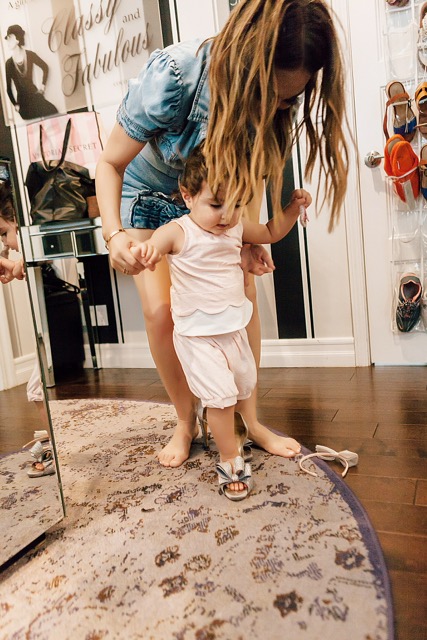 8:00 AM
I try to have fun with Collette in my closet as I get ready, explaining to her my stuff and singing along as I get dressed. It's great to have a little routine like this!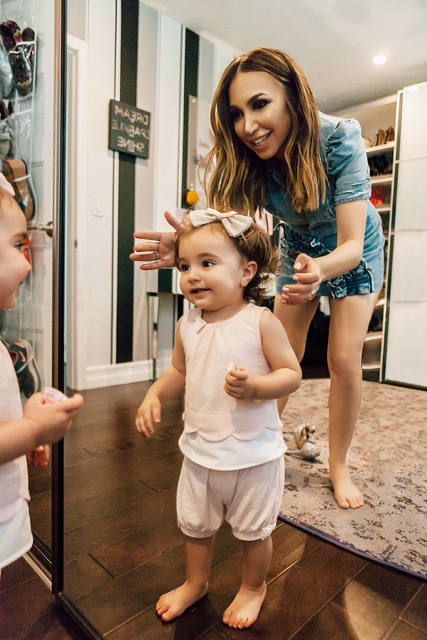 8:30 AM
It's time for Collette to have breakfast. Lately, she's obsessed with eating bagels (my kind of girl!). I have a quick bite to eat with Collette and then I am out the door.
9:00 AM
I am in the office, hustling and running my company, Obsev Studios.
11:00 am
I take a break and FaceTime Collette to talk to her. It's great to make time to chat with her and see how she's doing. Collette used to cry before when I would FaceTime but now she's used to it and gets excited. I think she's starting to understand a lot more, which is so exciting for my husband and I! It's amazing to see her learning so much and taking everything in. She's growing up so fast!
12:00 PM
It's my lunch break, and many times I try to rush home to see her. Most days its impossible to leave the office because I'm usually filming. However, if I can get time to leave on my lunch break for 45-minutes to see Collette, I take advantage of the opportunity.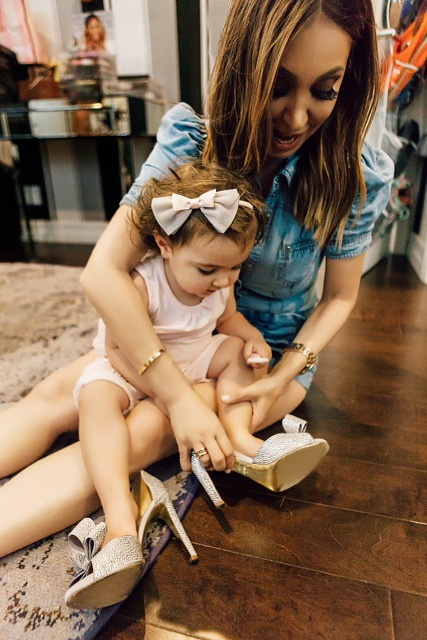 3:00 PM
I FaceTime Collette again on my break.
6:00 PM
I'm finally home with Collette, reading a book or cooking with her next to me. I truly try to make the most of this time when I get home from work, and doing activities like cooking and reading with her is amazing.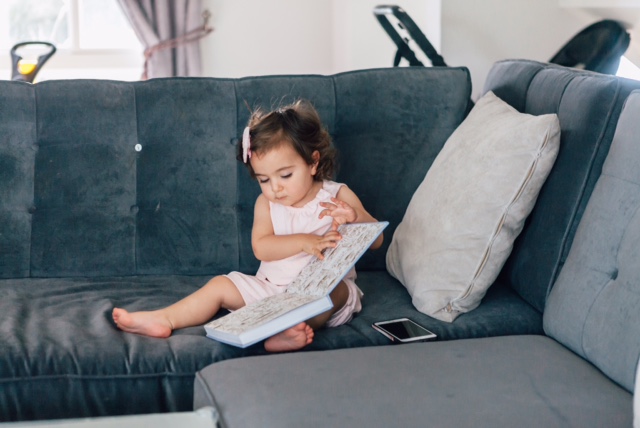 7:30 PM
Collette takes her bath. I like having a ritual and routine with her, and it gives us both something to look forward to at the end of the day.
8:30 PM
Collette falls asleep on my chest.
It's important to try to make the best out of a crazy schedule. Try to make the best out of the moments you have with your child! I usually put my phone away when I am with Collette because I don't want any distractions and truly try to live in the moment with her whenever and wherever I can!