Hilary Duff is the latest celebrity to get slammed by online trolls because of her body, but she's not letting haters get the last word.
The "Younger" stars message is loud and clear: Dear Body Shamers, you can kiss my ass!
I really wanted to talk about this topic today, because I have been a victim of body shaming on social media as well. I usually delete the negative comments and call my girlfriends on the phone and vent for hours. Hilary Duff on the other hand took to Instagram to send a message to all the trolls.
Hilary had an amazing message, she has flaws and she is proud of them. Hilary said that she was posting the message for women of all ages to not waste their precious time and wish they were different.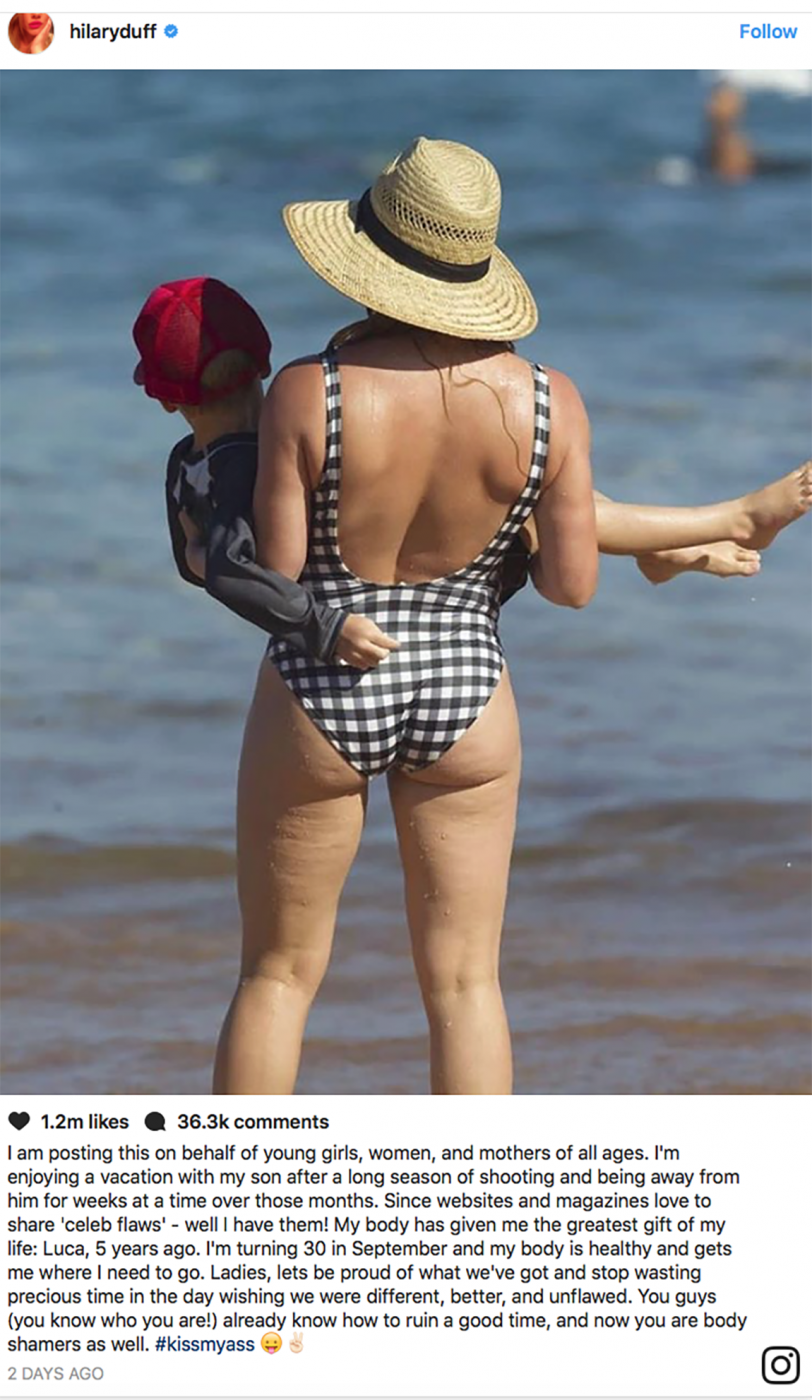 Hilary isn't the only celebrity that has been body shamed. We've seen it happen to Selena Gomez, Tyra Banks, Kelly Clarkson and Demi Lovato. I remember the first time someone on social media called me fat. I was nine months pregnant with my first child and super emotional. I didn't take the comments well and was shocked how someone would call a pregnant woman fat. After I delivered my baby, I had friends telling me in private to start wearing spanx on the red carpet. I had walked the red carpet in a black leather outfit weeks after having a baby and obviously my belly was popping out. Even though my friends believed they were giving me advice to help me out, I felt horrible inside.
Believe it or not, I was ok with my belly sticking out on the red carpet, since I had just given birth to a human and felt very proud to be a new mom. I was under so much stress to lose the baby weight, that I went to extreme measure of working out and doing diets to drop the weight.
Now I am pregnant for the second time and I am mid-way through my pregnancy. I have gained 25 pounds and I have no problem with gaining weight. What I do have a problem with is when people ask me if I am having twins. I have been asked this question over 10 times over the coarse of the last 5 months. Not sure if the implication is that I am hiding twins in my belly.
Thank you Hilary for standing up for yourself. You have given women around the world courage to embrace their flaws and challenge their haters.
I also read today that ASOS is taking a step to celebrate natural beauty. For a long time we have seen brands and magazines photoshopping their models. Now retailers are finally acknowledging that stretch marks exist and why not embrace it. Mega-retailer ASOS is now showcasing unretouched swimwear models on their website.
Many are praising ASOS as a paradigm of body positivity. The retailer has been at the forefront of the plus-size style movement from day one. By taking this step towards more inclusive marketing, ASOS joins other Photoshop-free brands like Aerie and Target in their mission to showcase what real women look like.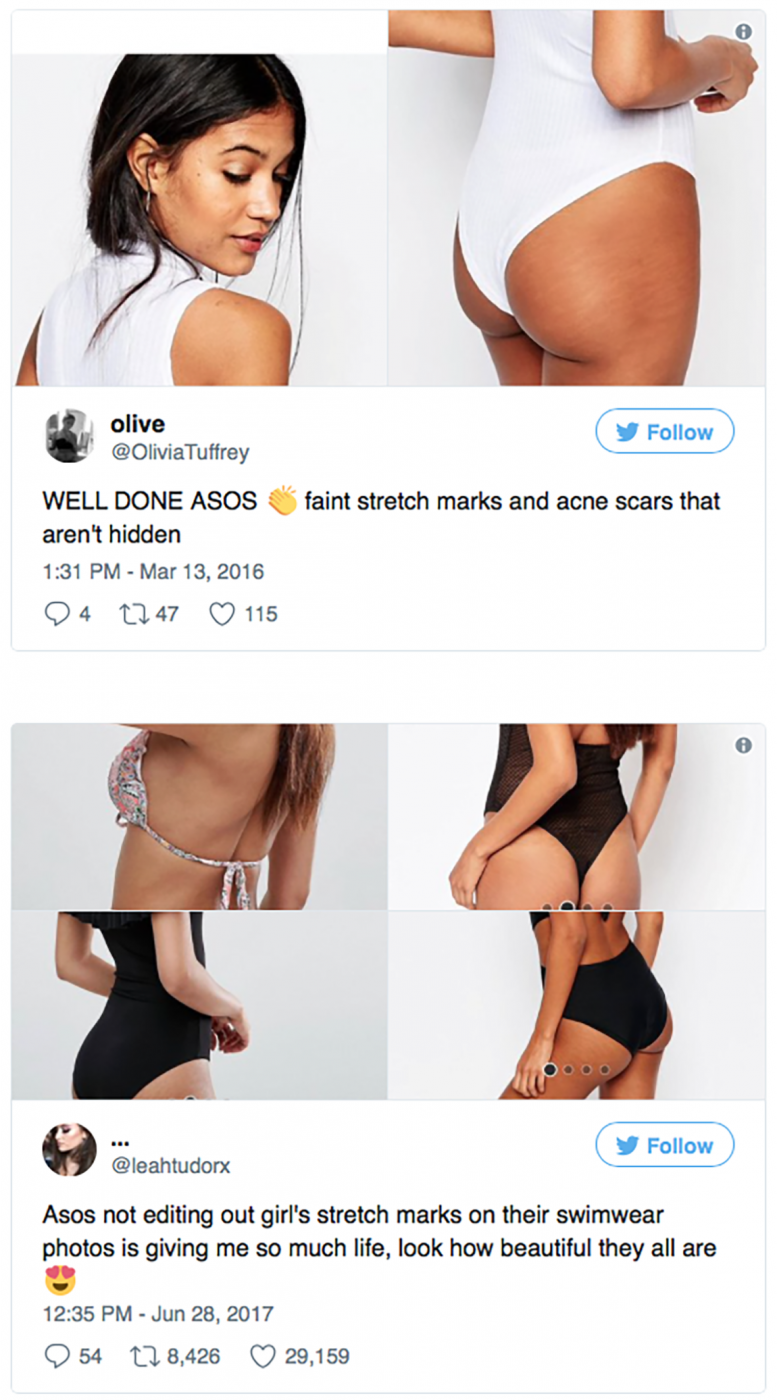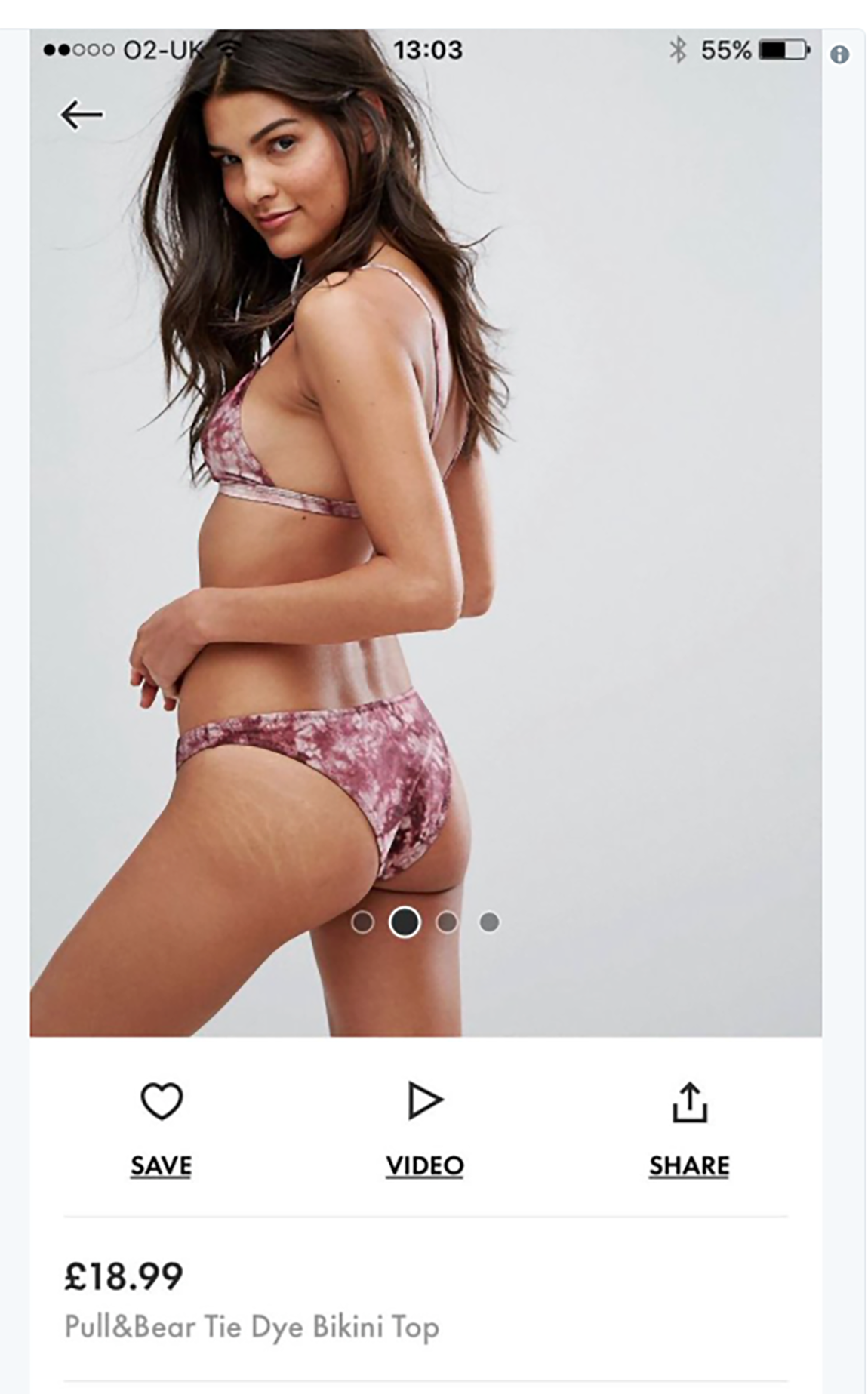 I hope with us continuing the conversation of body shaming, we can help shape people's view of what is acceptable and not. We can encourage people to embrace their bodies for what it is and not be afraid of criticism.
What do you think? Leave comments below!