Hey loves!
Welcome back to my blog, I am so excited to have you guys HERE…where I share with you guys my personal outlook on life, fashion and beauty. Today I wanted to talk about FASHION!!!!
Not just any fashion, BUT maternity fashion. Over the past 8 months, I have been experimenting with my pregnancy style. It's definitely a lot different from my maternity wardrobe from baby number one. Although it was only three years ago that I was pregnant with Collette….a lot has changed with my pregnancy style.
With my second pregnancy, I am looking more for comfort than anything else. I have invested in cool sneakers and flats. Don't get me wrong, I LOVE ME SOME SEXY HEELS!!! However, for the most part…I've been trying to keep it real with flats and comfy boots.
Not sure if you are pregnant while reading this post, or have been pregnant…but the truth is that there isn't any cool maternity clothes on the market. This is something that I dealt with during my first pregnancy and here I am again dealing with it again. Sorry A Pea in A Pod, but you guys need to collaborate with some cool folks like myself, to bring some trendy, edgy clothes to your stores.
I wanted to show you guys some of my maternity style that I have been rocking from day to night. Since I wear many hats…I have many different looks that I try throughout the week and sometimes throughout the day.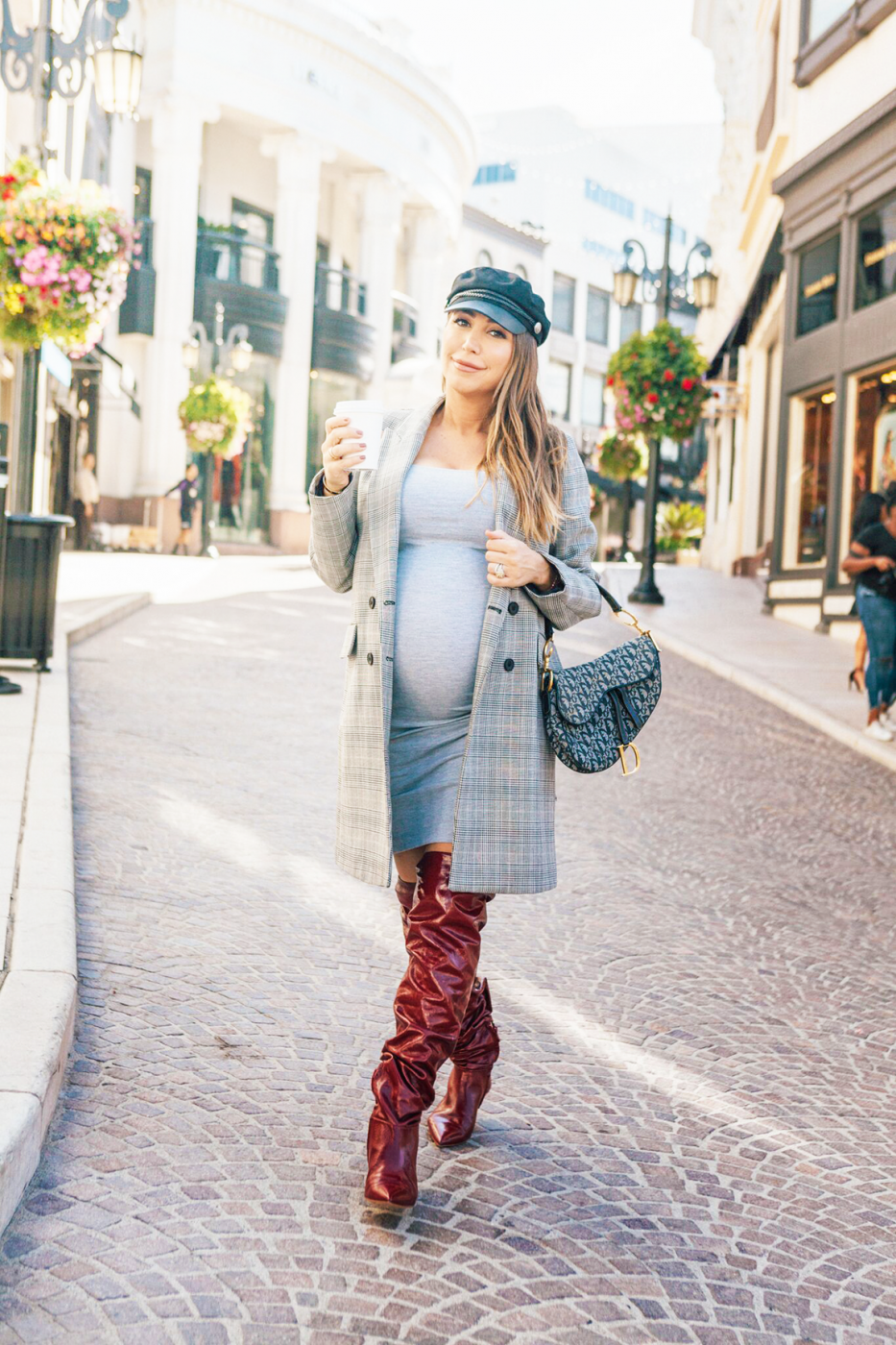 #GirlBoss Diana:
For my boss life looks …I always wear a cotton form fitting dress. I bought this grey knee length body-con dress from H&M in every single color possible. Not only is it flattering, but super comfy. I alternate colors daily and it's been my go to. I noticed that with pregnancy bodies, it's more flattering to wear form-fitting clothes rather than empire dresses. To add some BOSS-Babe sophistication, I topped off the dress with a fun trench from Zara. I also wore these fun red kitten heel booties from Zara that I will be wearing all throughout winter.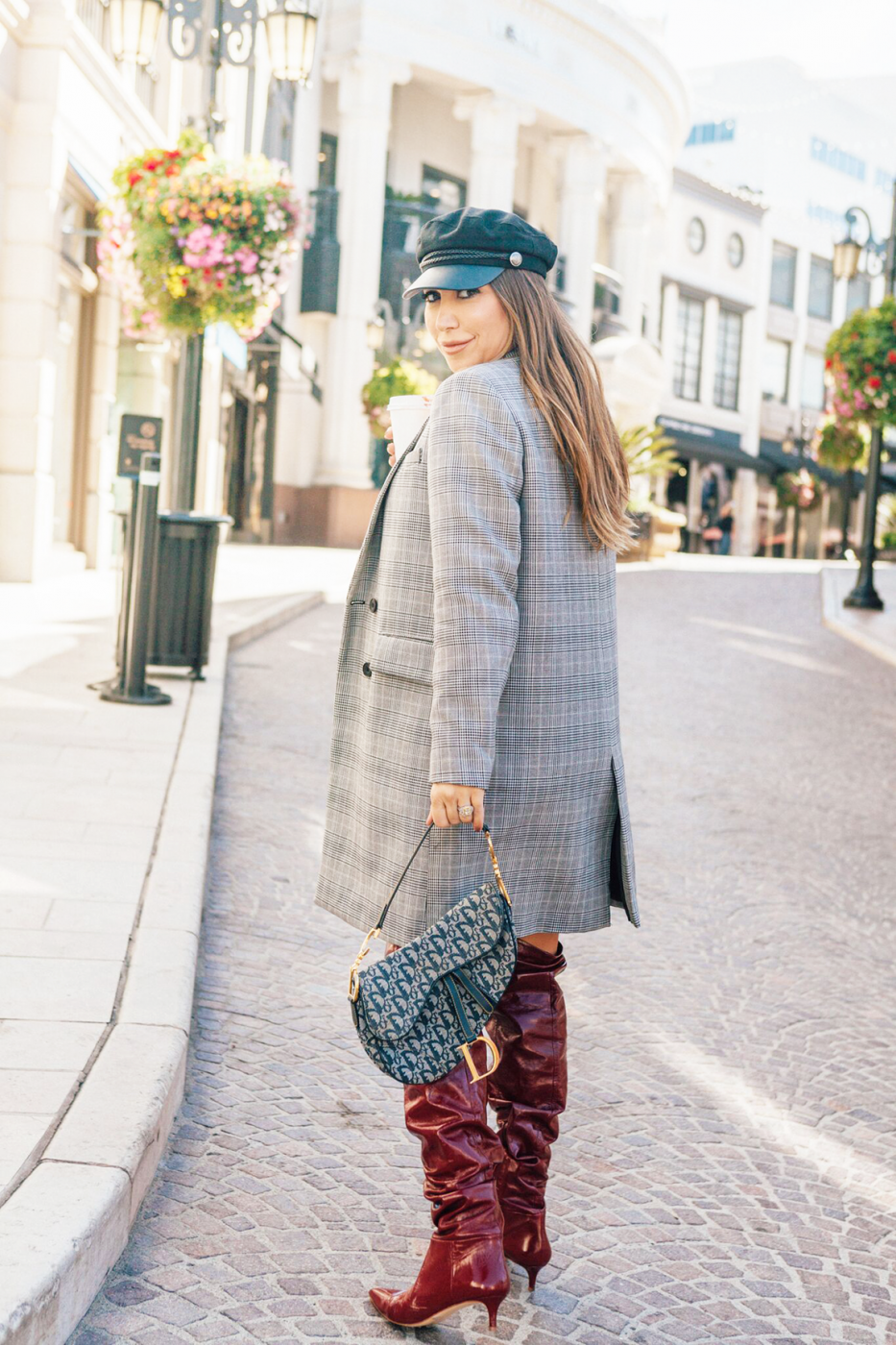 Of course I am the queen of accessorizing my outfits with fun hats and designer bags. That's just how I like to roll!!!
#MomLife:
When it comes to mom life, I always love to rock a fun T-shirt dress with some cool sneakers. I like to feel as comfortable as possible because I will be running around after my two year old daughter Collette. My Tee-dress is by H&M and my sneakers are from Gucci.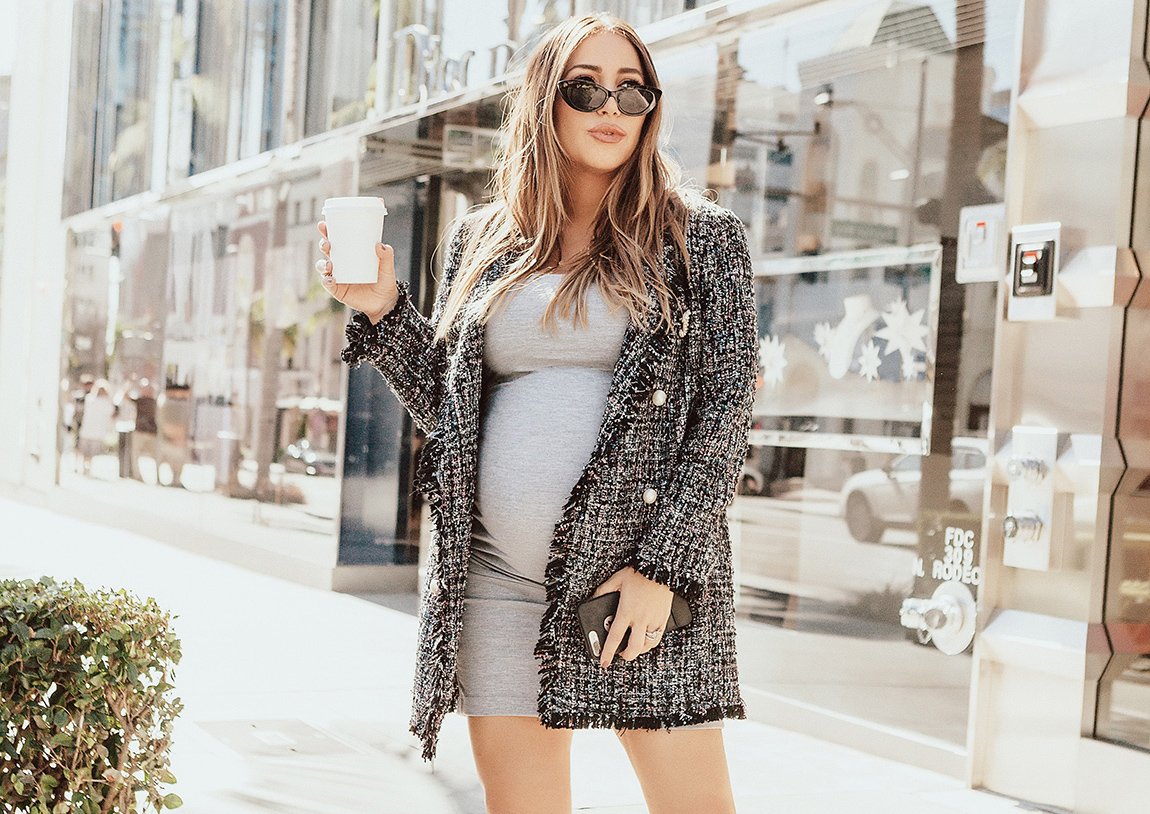 Red Carpet Maven:
For my red carpet look, I recently wore a fun velvet sleeveless duster from Alice and Olivia and a nude tube dress from Wolfrod. I recently discovered Wolford and I am obsessed on how comfortable the clothes are. It's like wearing a panty hose as a dress. I wore this outfit when I hosted UNICON in Los Angeles.
Date Night:
When it comes to date night, I want to look as sexy as possible for my man. Sometimes its really hard to feel sexy when your carrying 40 pounds in your belly. However, I try to do my best when it comes to date night style by going for a chic look. I wore this outfit the other night attending the Ken Paves salon opening in Los Angeles hosted by Victoria Beckham and Eva longoria. I wore a trench coat by Vince, fun heels by Gianvito Rossi and a tube dress by Wolford. I know you guys probably think I am crazy for wearing the heels, but I felt really good and sexy wearing it. I must confess, that it only lasted two hours as I kept wanting to find a chair and sit down at the party.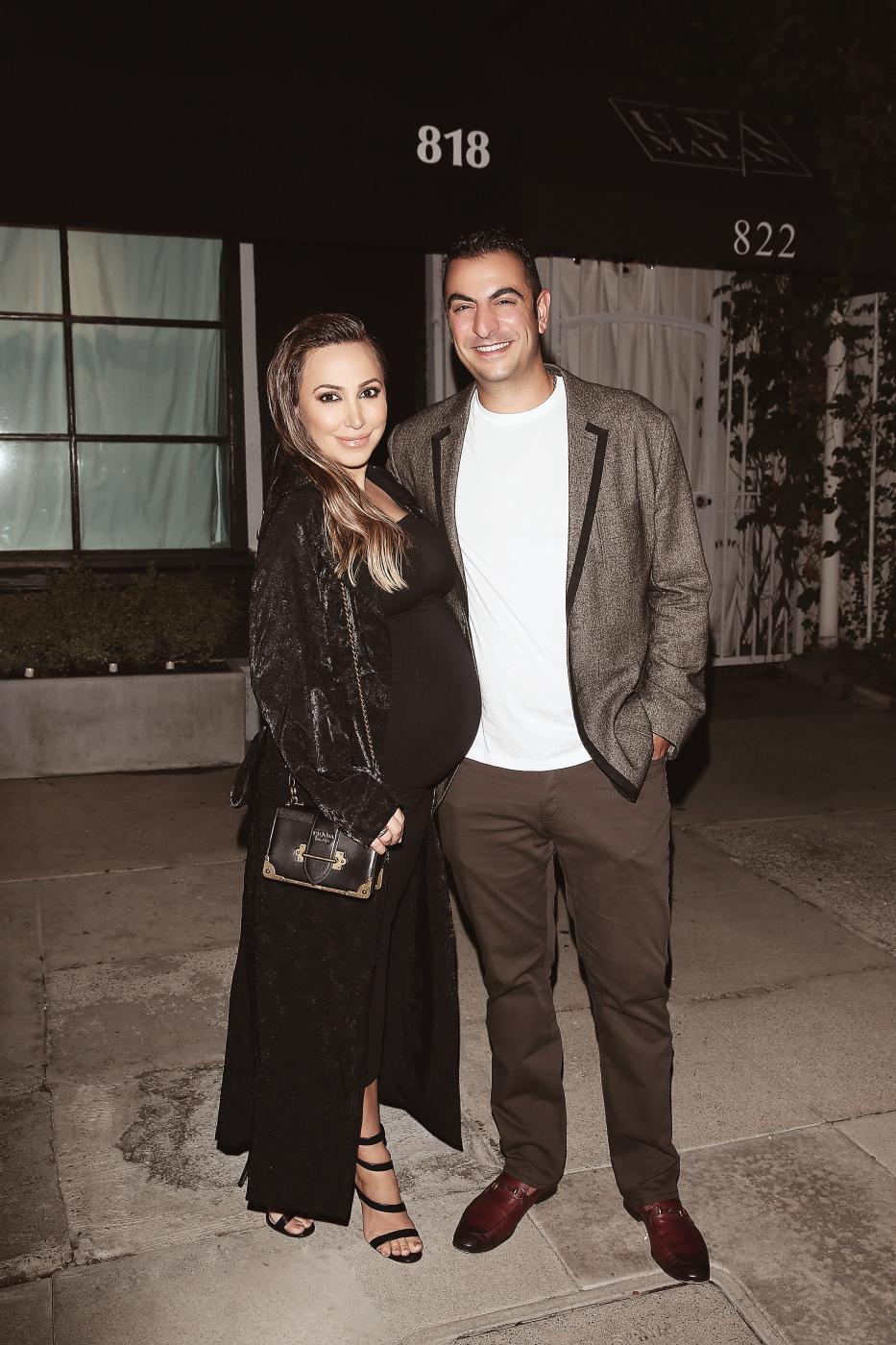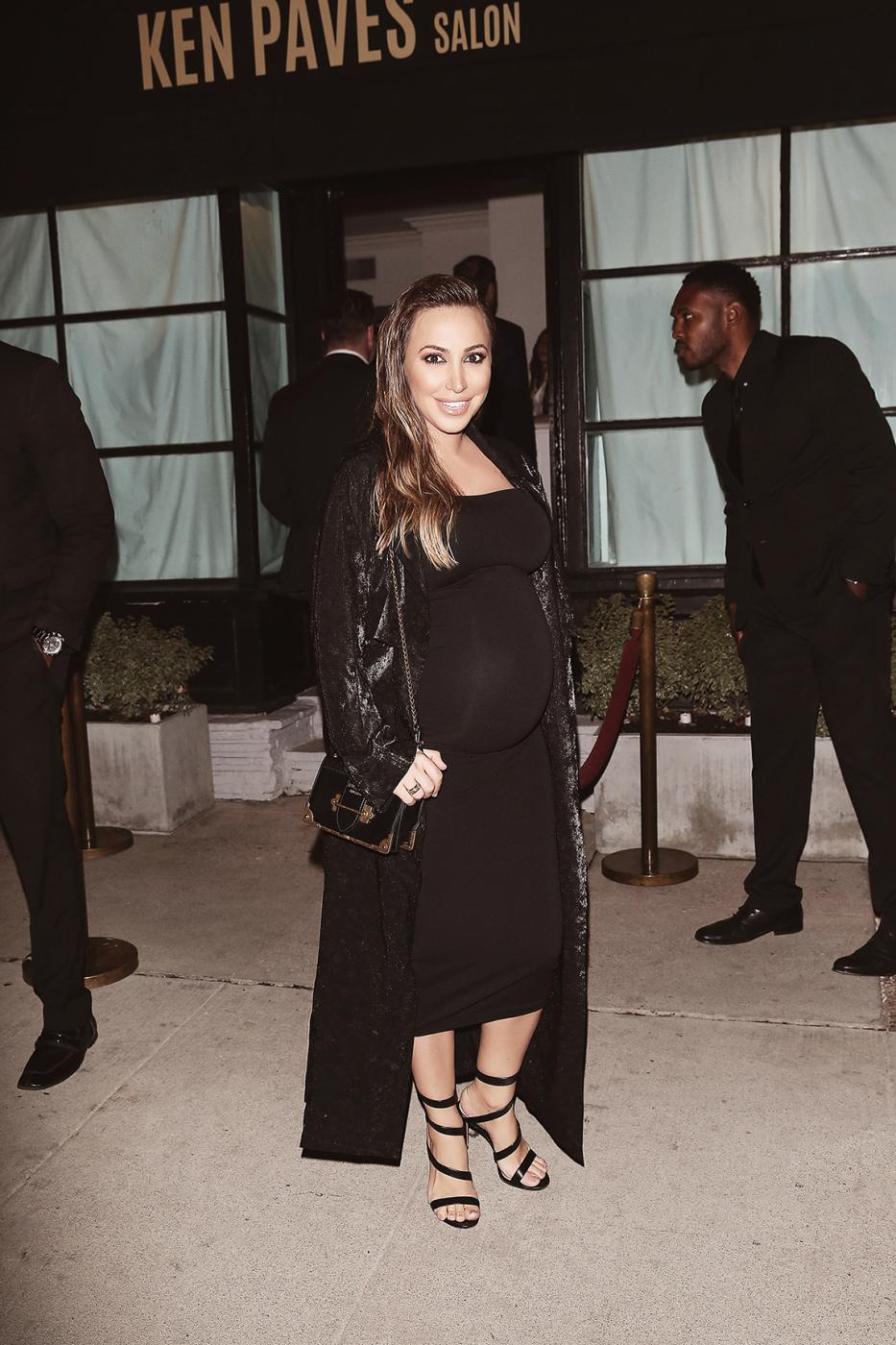 When it comes to filming my talk show The Lowdown and Style Lab, I like to go easy with comfy maternity denim that I got from topshop and a fun T-Shirt from the Gap. I spice up the wardrobe with fun shoes and a beautiful overcoat. In the pic below I am wearing an investment piece I got before my pregnancy from Balmain. I know this is the one item that I can wear during my pregnancy and post pregnancy.
When it comes to my pregnancy rules it's pretty simple. Don't break the bank and go for affordable looks. Your body grows by the day and it's hard to keep up with maternity clothes. Get some of the staple items that you can wear all throughout your pregnancy like I mentioned above.
Hope you guys enjoyed this post. Please leave me comments in the comments section below. Let me know what you guys want to see more on my blog. I LOVE TALKING TO YOU GUYS!