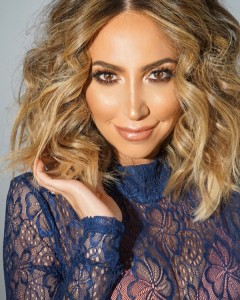 Diana Madison is a TV personality, entrepreneur, social influencer and producer.
Born and raised in Hollywood, Diana has made a name for herself in the industry as a Hollywood insider, most often seen on the red carpet interviewing some of the biggest names in Hollywood, like George Clooney, Angelina Jolie and Oprah. Diana's online talk show for AOL ON, The Lowdown With Diana Madison, has created a lot of buzz, as she's scored big exclusives with stars like Mariah Carey, JLO and Patricia Arquette.
Diana is also a talk show regular, making frequent appearances on highly-rated talk shows like The Talk on CBS, Wendy Williams and The Meredith Vieira Show on NBC.
Diana is also known as one of the top media entrepreneurs for launching Shandy Media (whose properties include Hollyscoop, Obsev, The Fumble, Style Lab, and Obsev Food). She has produced content / videos which have reached out to over 500 million viewers around the world.
Diana not only reports the news but makes the news with her style, as seen in the pages of fashion magazines. Diana is a new mom and has launched a video series "Mommy Diaries" on her Youtube channel (Youtube.com/DianaMadison) which also can be heard on Dash Radio weekly.
But Diana believes the best is yet to come! Her next project is writing a book on how to create your dream job, as well as producing reality TV shows along with 44 Blue and Bunim/Murray productions.
For all press, radio and television bookings, please contact Lindsay Rielly: lrielly12 [@] gmail [dot] com.